Torontoist's Hamutal Dotan:
In a passionate debate that saw many councillors reflect on their own personal and family histories, City Council today considered whether to condemn—via a letter that would be sent to Prime Minister Harper and Immigration Minister Jason Kenney—federal government cuts to immigration services agencies, some of which have been in operation for ten or twenty years.
via City Refuses—at Least for Now—to Condemn Cuts to Toronto Immigration Agencies – Torontoist.
This story was widely underreported coming out of this week's council meeting, with most of the ink going to the pay freeze and the privatization stuff. But it did cause quite the dust-up on Twitter. (This, by Jonathan Goldsbie, is a hall-of-fame tweet.) The issue wasn't so much whether the federal government cutting funding for immigration agencies is a good thing (it's most definitely not) but whether council should risk pissing off the federal government.
The results of the vote that ultimately referred the motion to the Executive Committee (where it will likely die) are interesting because this was widely reported to be a "whipped vote" by the mayor's office, meaning it works as an excellent snapshot of the divide on City Council. Here's how the vote went down: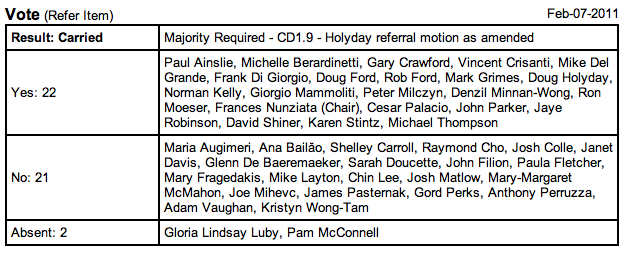 Luby and McConnell would have very likely cancelled each other out.
Tags: immigration