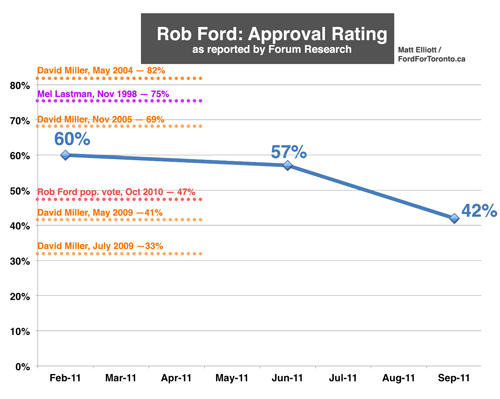 A new Forum Research poll has the mayor's approval rating at 42%. This is crazy low for a municipal politician, especially one who is not even a year into his term of office.
I've thrown together a quick chart which shows his previous favourability numbers as also reported by Forum Research along with some comparisons to former mayors David Miller and Mel Lastman, compiled via a variety of sources. In summary: his numbers don't compare very well. Ford's about as popular right now as a guy who had been in office six years, had pushed through two unpopular new taxes and was staring into the face of a municipal workers strike that would see garbage pile up in public parks for a month.
And Ford hasn't even got to the big cuts yet.
The Toronto Star's David Rider looks at the steep drop for Ford support in the suburbs:
Half of Etobicoke-York respondents approve of "the job Ford is doing," down from 58 per cent in June. In Scarborough, his support is 49 per cent (down from 59 per cent); 43 per cent in North York (down from 69 per cent) and only 30 per cent in Toronto-East York (down from 44).
via Toronto News: Ford support plummeting, poll suggests – thestar.com.
That 26 point drop in North York is crazy.
The obvious retort to this kind of thing is just to fold your arms and say polls don't matter. Which, sure, is true. As the mayor said yesterday, the only poll he cares about is the one on election day. But behind the scenes, this is a mayor who has built his political power on the premise that he is a very popular and well-liked guy in suburban Toronto. With that premise looking shaky if not shattered, there's no compelling reason for certain councillors to always look so intently to Giorgio Mammoliti's thumb when items come to a vote at council.
It's probably no surprise that the release of this poll coincidences with news that certain councillors will oppose the mayor on key items related to waterfront development and the upcoming budget process.
Tags: approval rating, david miller, forum research, mel lastman