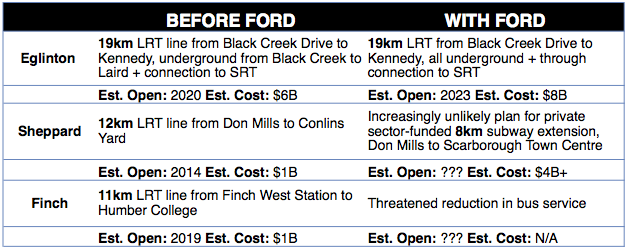 Rob Ford has screwed up transit in Toronto. We can endlessly debate the merits and impacts of the mayor's budget policies, but nothing compares to the long-term damage he's done on the transit file. In less than a year, Ford has taken a fully financed and designed plan for multiple transit lines in the suburbs and replaced all of it with an overpriced half-baked tangle of transit ideas, all in various incomplete stages of funding and design. In doing so, his administration has set transit expansion back by a decade and replaced near-certainty with gobs of doubt. Thanks to Rob Ford, no one is really sure where transit in Toronto is going.
Ford's undemocratic transit meddling comes with an estimated price tag of $65 million, most of which will go toward paying various contractors and manufacturers to not do the work they were originally supposed to do.
Keeping track of Rob Ford's transit strategy is an exercise in frustration, as no one is forthcoming with information and nothing has come to council about any of this. To the best of my knowledge, here's where thing stand.
Eglinton Crosstown LRT
The one Transit City line that still has a beating heart, Eglinton represents, in its current incarnation, both a vital piece of infrastructure and a massive waste of public money. Writing for Spacing, John Lorinc called Ford's unilateral decision to build the entirety of the 19 kilometre line underground the "single most expensive infrastructure mistake in Toronto history."
Here's why: there's no ridership projection, traffic model or any other kind of reasoned analysis that shows a cost-benefit for burying the eastern section of the line. No one has made an argument in favour of burying this section of the line that doesn't boil down to "Rob Ford hates above ground transit." But that's not a sensible reason to make any kind of public policy decision, much less one that involves spending billions of dollars.
There is some hope that cooler heads will prevail on this one. The existence of the Don Valley — sneaky jerk that it is — has forced some public conversation about how an underground line can really work. And TTC Commissioner and Ford ally John Parker recently reiterated his support for sticking with the original Transit City design on the eastern part of Eglinton. He told the Town Crier's Karolyn Coorsh that, as planned, Rob Ford's Eglinton Crosstown line will be "the goofiest LRT line known to man."
The TTC now pegs the open date for Eglinton at 2023, a minimum three-year delay over the original window of 2019 or 2020. The money we're set to spend to appease one man's irrational bias against surface rail could fund major transit infrastructure improvements on key corridors like Finch West.
Sheppard Subway Extension
There is no plan to extend the Sheppard Subway in the near-term. It will never happen. Former Councillor Gordon Chong, hand-picked by the mayor to bring the dream of the privately-funded subway to reality, has come clean, admitting that private partners are only likely to fund 10-30% of the overall project cost. And we can't even know that for sure unless we spend another $10 million on further analysis.
Ford's Sheppard gamble always felt like a face-saving decision. His original transit vision called for the outright cancellation of the Eglinton line, funnelling all resources into extending Sheppard at both ends. When the province told him this wasn't likely to happen, both sides compromised.
Somewhat inexplicably, Ford has stuck to his guns on the long-term viability of the project through his end-of-year interviews with various media sources. Citing federal money that was committed to David Miller several years ago for the Sheppard LRT, Ford told the National Post's Chris Selley and Natalie Alcoba that we could see shovels in the ground on Sheppard in 2012. Sure.
Finch West
N-O-T-H-I-N-G.
When plans shifted away from Transit City, Finch West — a horrendously busy bus route — was left with nothing but  a vague commitment to "Enhanced Bus Service." No one ever indicated what that meant, and further details now seem entirely unlikely. Finch West was actually one of the routes proposed for service cuts under the TTC's original plan to roll back the Ridership Growth Strategy in 2012. Fortunately, thanks to some commendable wrangling from TTC Chair Karen Stintz, we got a stay of execution. Council will get a chance to permanently preserve service as part of their budget debate in January.
The Way Forward: Calling for a new consensus on transit
As we learn more about the long-term implications of Rob Ford's transit vision, it seems more and more like this all amounts to something resembling the Port Lands fiasco from this summer. There, Ford backed a short-sighted vision for a major city asset that really didn't hold up to scrutiny. Once the public started pushing back, councillors who tend to support the mayor started to question whether Ford had things right.
The rest is history. At the eleventh hour, Ford backed a face-saving compromise that saw council unanimously back a way forward for the Port Lands. And while there's still a lot of questions about the implications of that new consensus, it's a hell of a lot better than what would have happened otherwise.
Is a Port Lands-style consensus possible with these transit plans? Early indications are good. Aside from Ford, very few councillors expressed strong objections to the on-street operation of Eglinton and other Transit City routes when they were first proposed. And there's certainly an appetite for more transit in more places, which is what we'd get if council rejected Ford's all-underground scheme for Eglinton and reverted to something resembling the Transit City plan.
The important thing is to position any changes as a compromise, and to leave room for the mayor to save face. As much as it might be fun to see Rob Ford utterly defeated as Transit City rises from the ashes, we're far more likely to find a successful way forward with a compromise strategy that integrates elements of Transit City with new vision for transit. That vision could include a small subway extension (to Victoria Park), a tweaked plan for surface LRT service on Finch & Eglinton, and even bus rapid transit — any and all things that can meet our goal of moving more people more efficiently.
This isn't optional. Letting Ford's transit vision move forward unimpeded will only amount to a waste of time and money. In 2012, council must be given an opportunity to debate these issues and get transit planning in this city finally and permanently back on track.
Tags: eglinton lrt, john parker, karen stintz, sheppard lrt, sheppard subway, transit, ttc