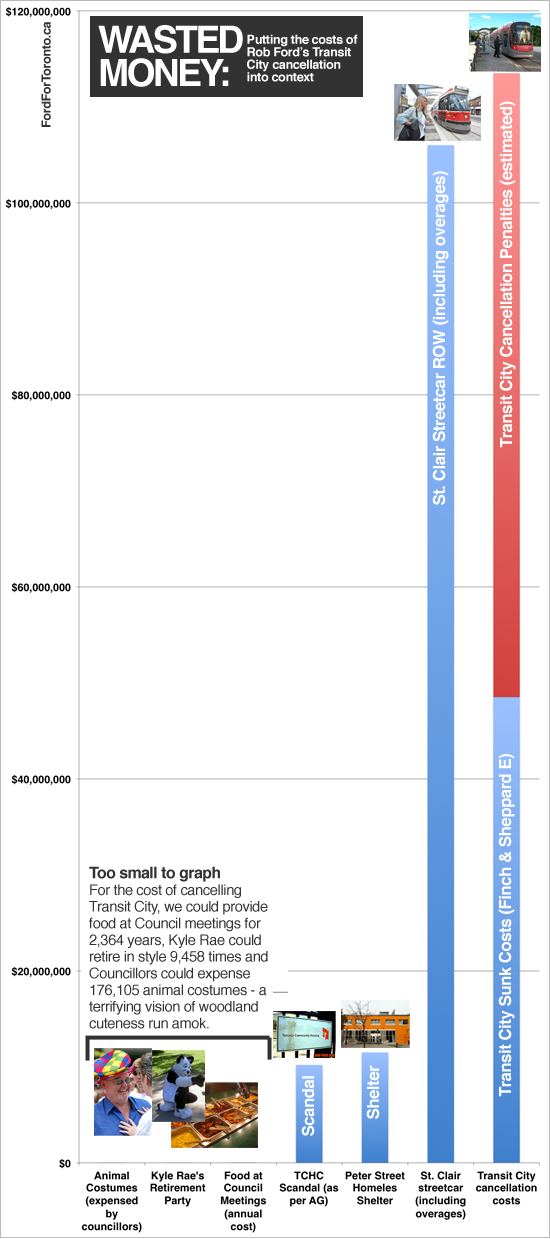 Most people understand now that Rob Ford's unilateral — maybe illegal — decision to cancel Transit City comes at a cost. There's the widely cited figure of $65 million — a bill the city will have to pay to make good on contracts signed to deliver Transit City. But his decision also cost us $48.5 million in mostly unrecoverable sunk costs related to work done on now-scrapped light trail transit lines on Finch West and Sheppard East. (At the time of cancellation, a further $80 million had been spent on the Eglinton and Scarborough RT Transit City lines, but most of that work would still apply to the rejigged Metrolinx Crosstown project. See this TTC briefing for a breakdown of costs.)
All told, slashing Transit City will cost the taxpayer approximately $113.5 million. Let's give that figure some context, using examples of "wasteful spending" identified by the mayor during his campaign.
For the cost of cancelling Transit City:
I make these comparisons not to excuse the behaviour of past governments — much of it is completely inexcusable — but to point out that, when it comes to wasting taxpayer money, Ford's Transit City decision ranks near the top of the list.
Nothing Ford identified as 'gravy' during his campaign even approaches the amount of money he squandered on his first day in office when he recklessly halted Toronto's transit plans.
Council will soon have the opportunity to vote on transit and potentially recoup some of these costs by restoring some or all of the original Transit City plan. There's still time.