The City has published a presentation on the 2011 Budget — credited to the Budget Committee – that was delivered at today's meeting of the Executive Committee. It's similar in substance, if not in tone, to the budget presentation delivered by Councillors Vaughan, McConnell and Wong-Tam a few weeks ago. (Of note: page 68 of the presentation explains that the city has a "modest level of debt" and reports the "recent loss of Personal Vehicle Tax" as an "area of concern.")
Big news, though, comes on page 70, where three scenarios for the city's fiscal future are laid out. They are, in summary:
STATUS QUO – just keep doing what we're doing! Don't cut services or look at new revenues. Just keep on keepin' on.
HALF A BILLION DOLLARS IN SERVICE CUTS – If this year is any indication, that money will be found through a combination of cutting transit service, closing libraries and policy inspired by the belief that poor people are just lazy.
SELL STUFF, GET THE PROVINCE TO GIVE US MONEY, SOME SERVICE CUTS – Despite repeated claims during the election that the city didn't need provincial money, the actual need for provincial money comes up several times in this presentation. By 'sell stuff' I mean 'asset monetization', likely Toronto Hydro.
Here's how the three scenarios break down in terms of impact on property tax rates: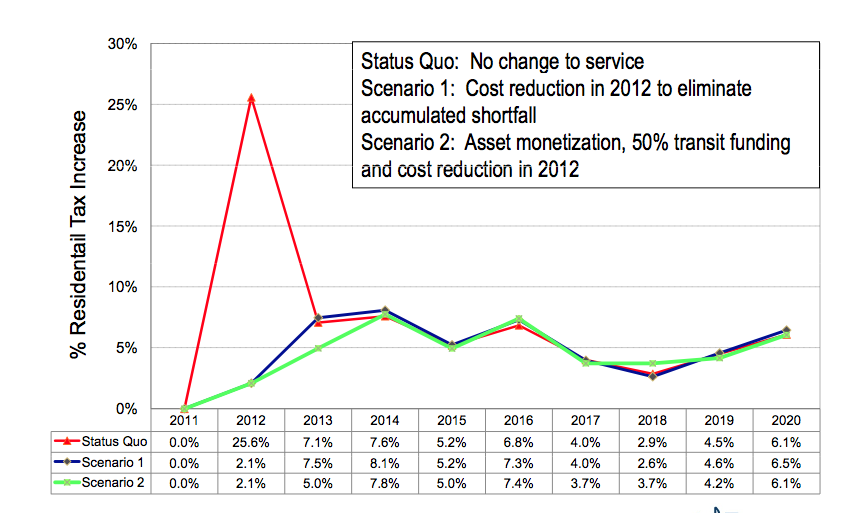 Yes, the 'Status Quo' results in a property tax increase of 26% next year. I believe all of these scenarios continue to count on revenue from the Toronto Land Transfer Tax.
Scenario 1 — the blue line — is plainly impossible, given the public response to the service cuts proposed in this year's budget. They still might try it, though, and be prepared for the war to end all wars at council if they do. Half-a-billion dollars in savings amounts to serious hits to things like the library, public health, housing, culture and transit.
Scenario 2 is more balanced, though the city has to be careful with the idea of 'asset monetization.' Selling stuff without considering the long-term implications can cause problems later on. But it relies mostly on revenue from the provincial and federal governments, which would mean lobbying hard for extra dollars. And nearly every member of Team Ford derided the previous mayor when he did just that. (Also: cutting 60 million dollars a year from revenue doesn't put the city in a great position to argue for increased provincial and federal funding.)
So what will happen? It is hard to say. I do believe the Fords may make a hard play to cut half-a-billion from the operating budget — this may be why Doug Ford was musing about a Strong Mayor system earlier, as it would make these cuts a whole lot easier — but there's no way council will stand for those kinds of service reductions. The province swooping is also unlikely, especially if a deficit-hawk Harris-era Progressive Conservative takes the wheel in the fall.
Which leaves us back where we started: short on revenue, short on time and — this one's new — short on leadership.
Tags: budget