One of the more common arguments brought up at yesterday's council meeting against the mayor's plan to contract out garbage collection was the idea that, apples to apples, public service may be cheaper. Councillor Gord Perks illustrated this point with numbers pulled from a recent report by accountant Al Rosen — commissioned, it must be noted, by the union — that show that, when you factor in revenues from recyclable goods, the net cost per tonne in contracted-out Etobicoke is actually higher than the cost in publicly-serviced Scarborough.
From the report, the relevant table: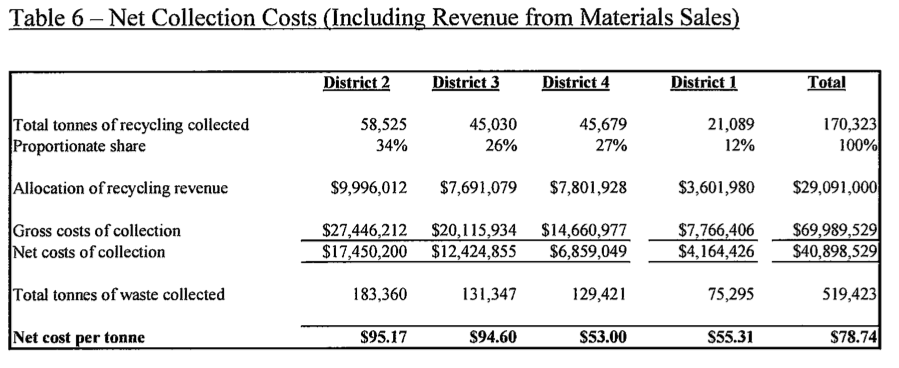 District 4 (Scarborough, publicly serviced) is the fairest comparison to District 1 (Etobicoke, privately serviced), as the other two district contain vast stretches of the old city. (20% of homes in Districts 2 and 3 are detached single family homes, versus almost 40% in the other two districts.)
Etobicoke residents recycle far less than their counterparts in Scarborough, sending approximately 0.32 tonnes/household to the recycling plant versus 0.40 tonnes/household in the east end of the city. The report speculates that this could be because of "lower program compliance by District 1 residents, lower diversion rates by the private contractor, or diversion by the contractor of valuable materials."
I guess it's possible that Etobicoke residents just suck at putting things in the blue bin, but that seems a little simplistic. More likely is that something is happening after the blue box hits the curb that is resulting in much lower reported diversion rates.
Maintaining and increasing these diversion rates isn't just an issue for tree-hugging environmentalists — it's also a matter of dollars and cents. If the mayor's plan to contract out garbage collection were to result in the city's diversion rates for recyclable goods falling to the level we currently see in Etobicoke, this whole thing would become an unmitigated financial disaster. On a cost per tonne basis, the city would lose money.
Thankfully, Councillor Josh Matlow successfully passed an amendment last night requiring that "diversion targets [of bidders] must meet or exceed current City standards and may not be reduced from the present targets. If the City increases diversion rates east of Yonge Street then a private firm will be required to also meet the increased diversion rates west of Yonge Street."
The mayor, of course, voted against.